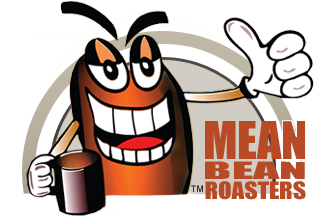 Welcome to Custom Coffee Blends Online - Custom Gourmet Coffee
Custom Blend your Coffee. Custom Design your bag Label. Gourmet custom coffee for the "normal" joe at Mean Bean Roasters.
Think about custom gourmet coffee and stuffy coffee houses usually come to mind. Mean Bean Roasters is here to crush the mentality that outstanding gourmet coffees can only be enjoyed by egotistical bores who wouldn't know an exciting blend if it came up and pinched their left butt cheek. Normally "joes" deserve the sultry pleasures of a outstanding custom coffee blends and Mean Bean Roasters is here to deliver! Ordering custom coffee blends online need not be difficult. It needs to be exciting an easy. Thats exactly what Mean Bean Roasters gives you, an excitingly easy way to custom design your personal coffee blend as well as design your own label. Have any questions about custom coffee blends, ordering custom coffee online or Mean Bean Roasters? Feel free to contact us, otherwise.. ENJOY!
My Featured Blends
This is the voucher one would typically choose if you may

$25.00

Hooah Roast Coffee Blend? Whiskey, Rum and Amaretto Flavo

$10.00

Bed Head Coffee Blend? Medium Roast. Wild, earthy morning

$10.00

( Priced as a 1/2 lbs bag. Also available in a ful

$10.00

Irish Cream Coffee Blend? ( Coffee priced as a 1/2

$10.00
Custom Brewed Coffee blends - Custom Gourmet coffee for everyone